2016 Fresh Hop Beer List
Tributary
7th Settlement – BeerME
Austin Street – Half Light
Tuckermans Brewing – Fall Line
Urban Farm Fermentory
Mast Landing – Maine Wet Hop Pale
Rising Tide – Wet
Bunker Brewing
Sebago – Local Harvest
Liquid Riot
Foul Mouthed
Great Rhythm
Fore River
2015 Beer List
Tributary – Maine Harvest Ale (fresh hops)
Great Rhythm – Harvest Ale (fresh hops)
Tucker

mans – Harvest Ale (fresh hops)

Hobbs Brewing Company – Harvest Ale (fresh hops)

Bunker Brewing – Green Mind (fresh hops)

Allagash Brewing – Sixteen Counties (fresh hops)

Austin Street – Harvest Ale (fresh hops)

Liquid Riot – Wet Hopped COPA (fresh hops)

Rising Tide – LocalTide #1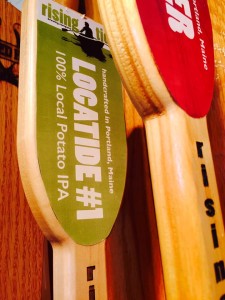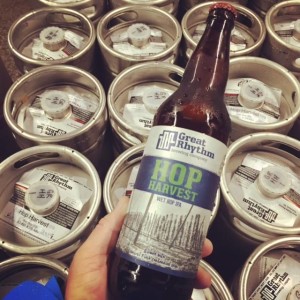 2014 Fresh Hop Beer List
During our 2014 harvest The Hop Yard provided 15 Maine based breweries with fresh local hops. Below is a list of the beers those hops ended up in. The list will grow as the beers get named and release. Go drink some!
Monhegan Brewing Company – Island Farm Double IPA
Double IPA, wet-hopped with freshly harvested hops Aroostook county and Monhegan Island Farm.
Sebago Brewing Company – Local Harvest
Local from top to tail, this annual staple is now brewed with hops grown only miles away from the Gorham brewery. Get more info.
Hidden Cove – Harvest Bounty
Harvest Bounty is an ISA, 4 % ABV loaded with wet hops. Nugget hops from Gorham, and 15% brewery grown hops as well. Loaded with flavor, it's best of both worlds, all the flavor and only 4 % alcohol.
Bunker Brewing – Green Mind
A wet hopped wheat pale ale.
Rising Tide – Wet
A local harvest "pilsen-ale" brewed with pilsner malt and rice, and hopped exclusively with Maine-grown wet Sterling, Willamette, and Nugget hops grown at The Hop Yard. Think pre-prohibition pilsner fermented with ale yeast. Herbal, spicy, with a hint of citrus. Delightful
Foundation – Local Harvest Saison
A wet-hopped local harvest saison, juicy orange and tropical saison notes.
Austin Street – 100% Brett Fermented Pale Ale
The tropical fruit flavors from this brett strain are complemented nicely by the grapefuity, grassy flavor of the Cascade wet hops.
Allagash – Sixteen Counties
A fresh hop beer brewed with oats, wheat and specialty malt then fermented with Brettanomyces.
Boothbay Craft Brewing – Wet Hop Dream
A 6.2% abv all-American wet hopped IPA brewed with Maine grown cascade & centennial hops. Mild herb & floral aromas with a nice clean true hop bitterness to balance out the barley malt bill.
Bissell Brothers – Wet-Hop
Traditional APA with 100% Maine fresh hops.
In'finiti – Harvest Rye
Hoppy, dark amber in color with a high proportion of rye malt. Loads of fresh picked wet hops.
Oxbow – Harvest
Wet-hopped saison with local hops, local spelt, wheat, oats and English page malt.
Tributary – Hop Harvest
Wet hopped ESB w/ fresh Centennial from WA in the boil and dry hopped with hops from The Hop Yard.
Banded Horn – Reticulating Bines
Wet-hopped 4% American Pale Ale.
Shipyard – Wet Hop Rye IPA